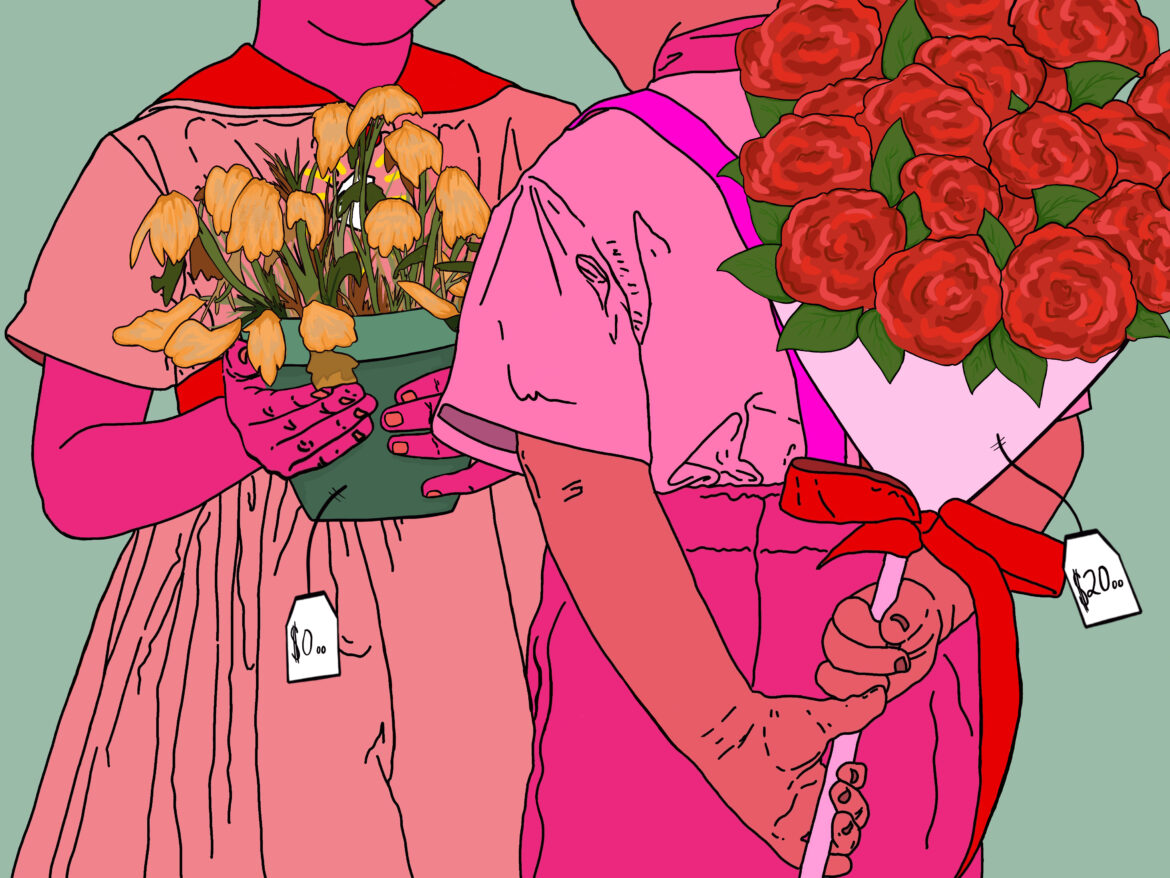 Your favorite florist in Cambridge
In 21st century America, anything and everything is subject to commercialization – Christmas, the Super Bowl, Groundhog Day. Even our love and affection have a price. Valentine's Day is just another indicator of the celebration of capitalism in our country. We buy chocolate boxes filled with an assortment of treats, cheese pop-up cards, stuffed animals that say "I love you" when pressed, and bouquets of flowers to symbolize our love. What was once an elaborate celebration of love has turned into a materialistic exchange of objects.
But under the Valentine's Day gift frenzy, Cambridge's beloved florist, 31 Brattle Street Florist, represents the true value of the symbolic gesture and its importance to local businesses and their customers.
"People buy flowers because it's the love day of the year, and it affects everyone of all ages – you buy flowers, chocolates and go out to dinner," says Steven Zedros, director of Brattle Street Florist. For Zedros, flowers are more than a materialistic representation of love. "The gesture of giving flowers should be a weekly thing. It brightens people's lives. With all the love he has for the store, he says, "My strengths are the people you meet, without any doubt, and the creativity behind the release of the product."
The shop was founded in 1917 by George, Stavros and John Gomatos as a family business. Zedros has worked at the store since the age of nine and is the third generation of the family business. "I came after primary, middle and high school. All my life I have come here to work," Zedros said. After 98 years of ownership of the store, Zedros' family sold the business to a new owner 9 years ago.
Brattle Street Florist has maintained a loyal fanbase over the years. According to avid customer and Harvard School of Engineering professor, William Frasschaert, "It's such a welcoming place…it's really a tradition here in Harvard Square. I'm glad Steven is continuing in Harvard Square and still around. Like many customers, Professor Frasschaert returns to the store not only for the flowers, but also for the personal connection. "It means a lot to me to walk into a place and be here for so long, people know you by name – that's really the best thing," he says.
"The gesture of giving flowers should be a weekly thing. It brightens people's lives.
Sharing this same passion, Sarah Lynch '22 says, "The people who work in this store are incredibly dear to me. Growing up with a mother who gardened frequently, Lynch felt the sense of community at Brattle Street Florist. "Florists are not just places of business, but community centers, places of gathering," she says.
For Zedros too, the store is not just a business, it is a family and friendly nest. "People you meet here, it's just the best place to be," he says. "Students come back for reunions and it's amazing to see what people have done with their lives – you hear great stories.
Zedros and his colleagues have managed to deliver that same feeling to their customers. "As soon as I walked into this store, I felt like home," Lynch shares. Upon entering the store, customers often greet Zedros and his employees with hugs and ask how their families are doing, Lynch says. While consumerist culture certainly has its critics, certain freebies play a bigger role in building community and sustaining our most cherished local businesses, like Brattle Street Florist.
Altering their original plan to close 31 Brattle Street, Zedros and his family decided to extend their lease until March so they could be open for Valentine's Day. They hope to move to Harvard Square on April 1. "It's not certain yet if we're moving to another location, but it's looking really strong," Zedros says. In anticipation of the upcoming holidays, he wants to make the store's presence known: "We will be there on business for Valentine's Day!
Ariel Beck '25 ([email protected]) is looking for a valentine to buy her heart-shaped chocolates.
Graphic of Marina Zoullas '23