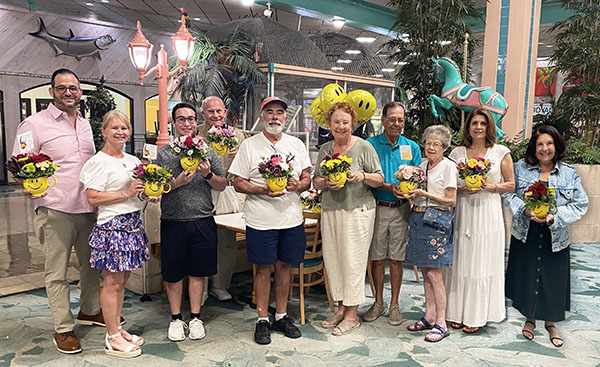 Wellington Florist partners with the Foundation to provide smiles
Wellington Florist has teamed up with the Wellington Community Foundation and volunteers from Wellington Cares to deliver hundreds of smiles to Wellington's elderly on Thursday July 21st.
"It has become one of Wellington Florist's main charitable projects," said owner JP Varvarigos. "Our team looks forward to this annual event and love curating and selecting the brightest, cheeriest flowers to create each unique floral arrangement. Teaming up with the Wellington Community Foundation was an easy choice for us, as their whole mission is dedicated to improving the quality of life for people in Wellington – and what better than a knock on the front door with a special delivery to brighten a senior's day.
The foundation has long partnered with Wellington Florist on a variety of projects, including 'Celebrating Our Seniors', which annually provides a beautiful flower arrangement to each participant of the Wellington Cares organization on their birthday.
"When Wellington Florist approached the foundation to spread smiles during this year's campaign, we turned to our main community partner for help," said WCF President Tom Wenham.
Diane Gutman and her team of Wellington Cares volunteers were ready to roll up their sleeves and deliver to all of their attendees.
"It warms my heart," Gutman said, as she recalled seeing the smiles growing on their faces as she approached with the flowers. "An elderly person then explained how difficult this week had been for her, and this kind gesture really changed the situation. It's the reason we all do what we do.
The foundation also worked with Wellington Regional Medical Center CEO Pam Tahan and her staff to organize and distribute dozens of Smiley Bouquets to seniors who were hospital patients during the campaign. When Tahan was approached, her immediate response was, "absolutely, we'll get there."
These cheerful arrangements are designed in an iconic yellow mug adorned with the internationally recognized smile emoji and filled with some of the most beautiful roses, daisies, marigolds and more – each as unique as the elder it was delivered to.
"We are proud to have such amazing community partners," said WCF Board Member Maggie Zeller. "Whenever there is an opportunity to serve, they all step in."
For more information about the Wellington Community Foundation or how you can get involved in future projects, visit www.wellingtoncommunityfoundation.org.