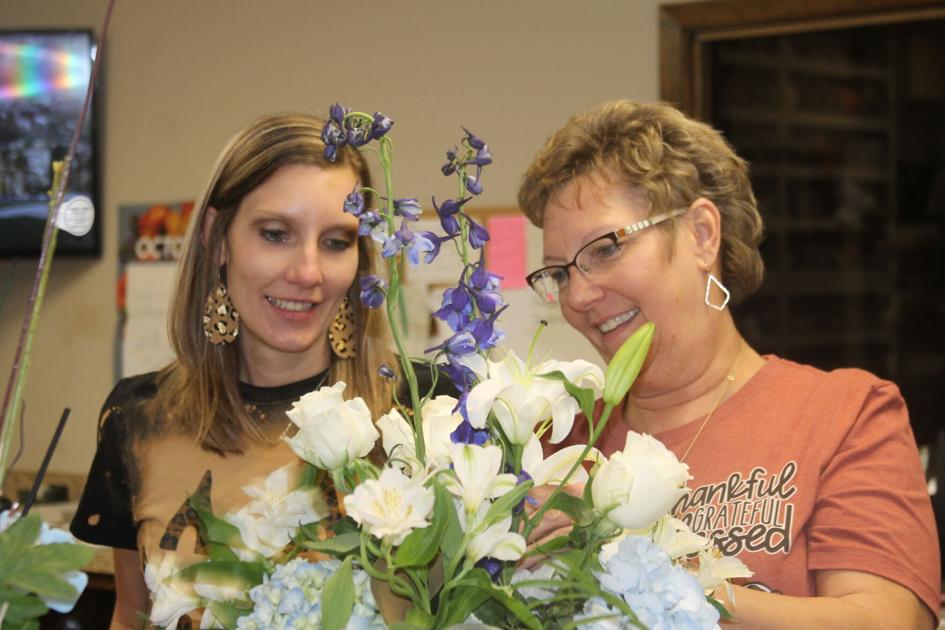 Next Generation Blooms at City Flower Shop | New
For some companies in El Campo, the more things change, the more they stay the same.
This particularly applies to Flowers Etc. & Gifts, Inc. on Mechanic Street. Not only have they maintained a stable business in El Campo for over 20 years, but owner Lisa Bubela plans to hand over the keys to her daughter Kirby Lange once she is ready to retire.
Bubela is a third generation El Campoan who owns Flowers Etc. since 1999. She may have found success in her business, but she is not the first entrepreneur in her family.
"My parents have always been very keen on owning their own business," said Bubela. "My father had an eighth grade education and still managed to own five successful businesses in El Campo. He helped me realize that nothing can get in the way of my dreams.
Flowers Etc. has not only been a passionate project for Bubela, the company is a mainstay among the residents. Small business is a big part of the "LOCAL Shop!" From El Campo. slogan.
The town of El Campo has seen economic improvement from citizen traders via sales tax rebates by the state comptroller's office. In September alone, the state returned $ 437,136 to municipal coffers.
Sales tax is the single biggest single income funding the town of El Campo, and it's thanks to companies like Flowers Etc. who continue the trend.
Despite the company's early success, Lange was unsure of her future with her mother's business.
"When my mom started this business, we literally lived in the same apartment building that she worked," Lange said. "Flowers were all I knew, so of course I didn't want anything to do with it."
Lange and her younger sister weren't invited to get involved in the business, but even when they left the building, she still saw flowers every day.
"When we started we were downtown where Paint Perfection is now, so my dad always came after work to bring my mom home," Lange said. "If they were there, so were we. We didn't go on a family vacation, we didn't have our own vacation. I didn't know it at the time, but it was a little glimpse into my future.
Bubela started downtown, but eventually moved her business to 1513 N. Mechanic in 2016. While her mother was starting her business, Lange decided in high school that she didn't want to follow in her mother's footsteps and instead tried to chart his own course.
"I saw we were still there, and it was just exhausting," Lange said. "It's late at night, early in the morning and it just takes a long time. I thought at the time that this was not something I wanted for my life.
Lange went to Sam Houston State with the intention of studying horticulture and crop science.
"I wanted to be there when I had kids, so I wanted a job that I knew I could work for from 8 to 5 years old, and I got into horticulture and crop science," Lange said. "During that time, I got pregnant, so it changed my plans a bit, but I was still able to graduate."
Lange graduated with a minor in education and began a long-term sub-position at El Campo High School shortly after graduation.
Eventually, Bubela needed to fill a position that Lange was willing to fill temporarily. They have now worked together for over 10 years.
"Of course there are ups and downs with everything, but I'm so happy that God's plan brought me here," Lange said. "My mom kept showing me what it's like to be resilient, what it's like to be a successful woman with all the odds. She is truly an inspiration and I am happy to follow in her footsteps. "
Although Bubela has worked in the flower industry for over 30 years, she doesn't plan on quitting but knows she will leave him in good hands if she decides to go.
"I love this job because every day is something different," Bubela said. "I can share the joy of people during their celebrations and bring comfort to people on some of their worst days. This job can be so rewarding, so I don't see myself leaving anytime soon, but it makes me happy to know that when I leave my daughter will continue something that we have built together.