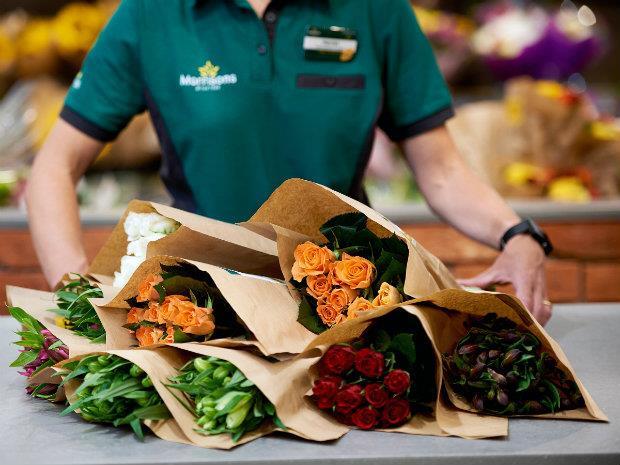 Morrisons is moving away from plastic flower bouquets for wrapping paper | New
[ad_1]
Morrisons must move away from plastic sleeves on flower bouquets for brown paper wrapping as part of its ongoing campaign to reduce unnecessary plastic.
In a move that would save 925 tons of plastic per year, the retailer announced today that it will ban plastic from its flower displays across its store network. The initiative follows in the footsteps of independent florists and will eliminate the use of some 18.5 million bouquet sleeves by the end of the changeover in early 2019.
The retailer said standard Morrisons bouquets will be the first to enter the new waterproof waxed paper packaging from September. Morrisons single flower bouquets and The Best premium line are expected to follow in early 2019. The packaging is made from 100% recyclable and FSC certified "hydro paper".
Read more: Morrisons to sell 'wobbly flowers'
"Customers tell us they would like us to reduce the amount of unnecessary plastic packaging we use," said Morrisons category manager for produce and horticulture Drew Kirk.
"The new paper packaging does exactly the same job as the plastic and looks just as good. More importantly, it keeps a large amount of plastic out of the environment.
This is part of Morrisons' commitment to ensure that all of its own-brand plastic packaging is reusable, recyclable or compostable by the end of 2025 following the signing of the UK Wrap Plastics Pact.
Earlier this month, the retailer announced that it had removed the plastic packaging from its cucumbers grown in Britain, although it admitted the move would cut shelf life from seven to five days. It also rolled out brown paper bags to wrap loose fruits and vegetables in produce aisles in June.
The plastic reduction campaign also saw it pledge to entice customers with 100 Morrisons More points per visit if they brought their own reusable containers to transport meat and fish to its butcher and fish counters. .
[ad_2]