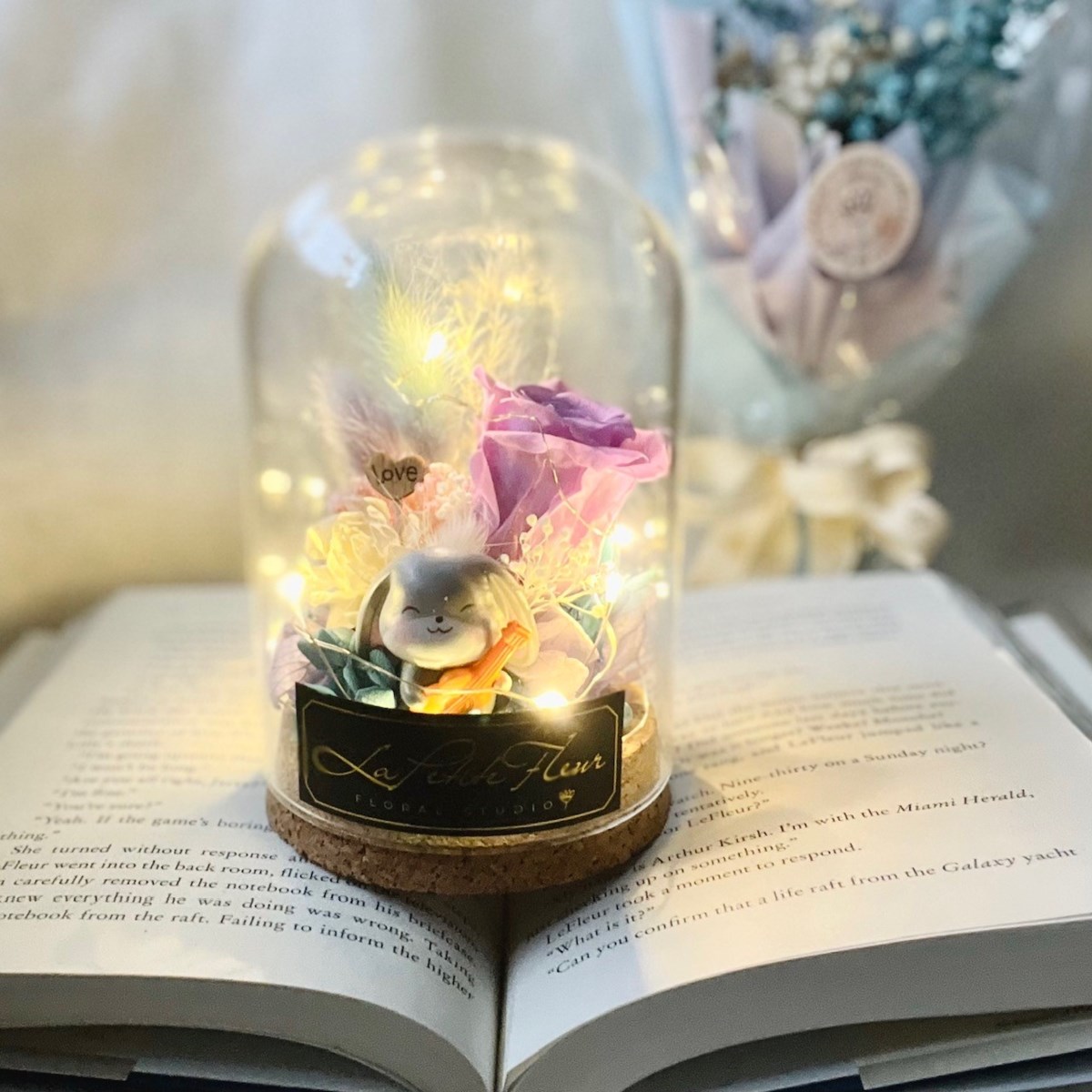 Learn to Make Evergreen Flower Bouquets in New West, BC
Preserved flowers can stay intact for years with minimal effort. Learn all about ageless flowers, and how to arrange them, at a workshop in New West.
For artist Jess J, the push to start a business around preserved flowers came in a pretty hard way. Every time her husband gave her a bouquet of fresh flowers, the romantic gesture was returned with sneezes and tears.
Is there a way to enjoy flowers without dealing with pollen allergy? – she wondered. It turned out there was.
Jess discovered a way to treat the flowers with a non-toxic solution that not only removes the pollen, but also keeps them intact for about two years at least. When stored away from sunlight and in a dry place, they last longer; when kept in a display case, they can last forever, she said.
"They're soft to the touch, just like fresh flowers, except they don't die."
And they are less brittle than dried flowers, she added.
Jess, who quit her corporate job during the pandemic to follow her passion for preserving flowers, had to scour the internet to find courses that teach the art of preserving flowers in a sustainable way.
She found that most courses offered in Canada teach flower preservation using silica gel (which helps absorb moisture and keep flowers fresh longer). But "the flower preserved in this way is not so fresh".
Through further research, she discovered that flowers can be preserved by adding chemical solutions and that there are toxic and non-toxic options.
Preserve flowers sustainably
She was particular about learning the art using non-toxic chemicals. It's the authentic way, she says.
"Practically, you can throw them (the preserved flowers) down your toilet, and it doesn't affect the life of the household in any way. It is an excellent ecological product.
She finally found someone in Japan who could teach her how to preserve flowers sustainably.
Jess was attending classes that started around 4 a.m. Pacific Standard Time to learn how to keep a hydrangea rose, throughout the COVID lockdown. In fact, she says, she continues to learn from the same artist.
In the meantime, she has accumulated enough knowledge to turn it into a business.
In December 2021, she founded La Petite Fleur, and through her brand, began exhibiting her rose boxes (stabilized roses in a glass box), small glass domes, stabilized bouquets, stabilized flower corsages, floral frames , and more, on its website, and in markets throughout the Lower Mainland, including New West.
In addition to Jess' preserved flowers, La Petite Fleur sells preserved flowers imported from Japan and Ecuador.
Each flower, she says, takes about two weeks to preserve. That's why a single preserved rose is listed for $30 on its website.
Currently, his works are part of the exhibition "Inspired by Nature, Made by Hand" at the North Wing Gallery of New West's Massey Theater (until September 30). In the meantime, she is also preparing large wedding bouquets that will be part of the Vancouver Wedding Expo on September 17.
Learn the art of arranging preserved flowers
Shortly after, Jess will be at the Gallery at Queen's Park for a Preserved Flower Arrangement Workshop hosted by the Arts Council on September 27.
Arranging preserved flowers is a bit different from arranging fresh flowers.
"With fresh flowers, you pretty much just use scissors, cut and make sure they have water and food," she said. "But preserved flowers are usually stemless. You need to add legs to the flower heads and arrange them so that the 'legs' are not visible.
Participants can choose to do this in 30 minutes, or go through it slowly for the full two hours of the workshop, or even take an extra hour.
"It's fun and relaxing," she said. "It's flower therapy."
The event takes place between 10 a.m. and 12 p.m. September 27 and between 2:30 and 4:30 p.m. October 1 at the Queen's Park Gallery. It is open for registration and costs $59.55. You can participate individually or in a group. For more details on Jess' products, contact her via her Instagram page.