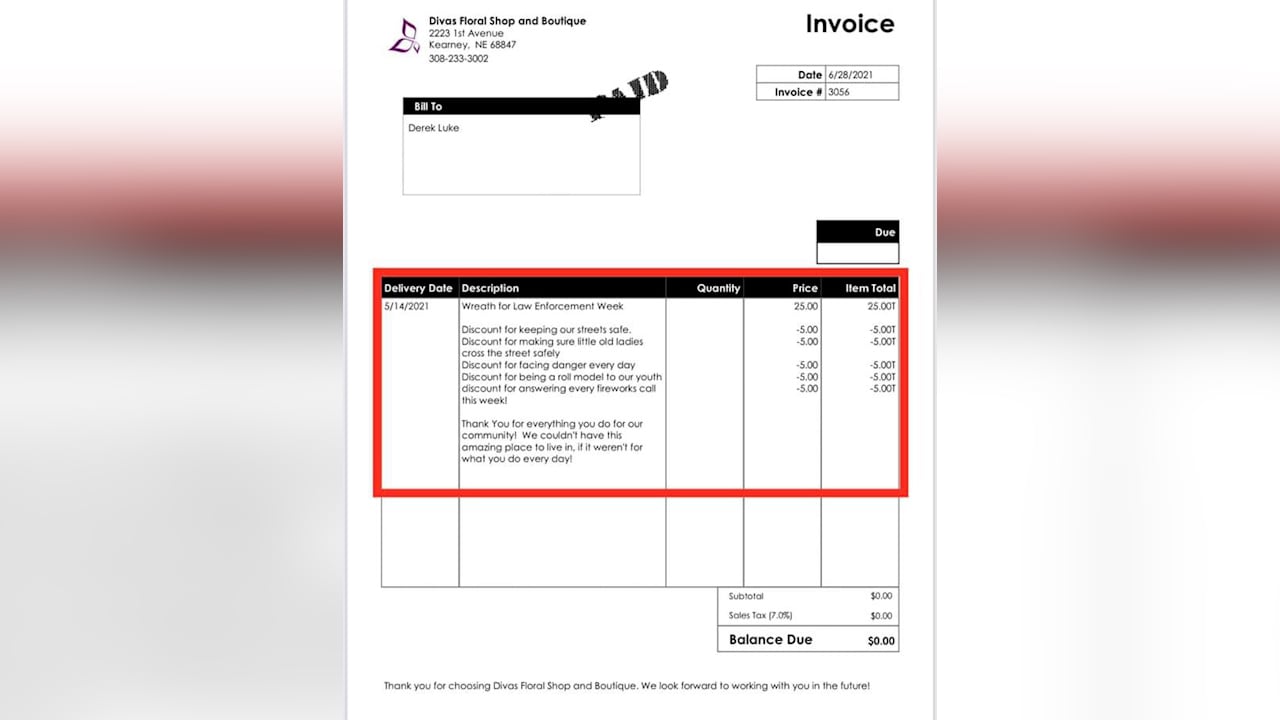 Kearney Police Department receives special bill from local florist
It's "Police Week" in Kearney, and a local business has celebrated their law enforcement with a kind gesture.
LINCOLN, Neb. (KLKN) – The Kearney Police Department were shocked when they received an invoice from Divas Floral Shop and Boutique on Wednesday. The ministry had ordered a wreath in honor of the deceased officers for Police Week.
"We just thought the invoice would be a creative way to not only donate to them, but also let them know how much we appreciate them," said florist Stacy Jeanperrin-Schulte.
Part of the invoice indicates:
Shed to keep our streets safe, shed to make sure little old ladies cross the street safely, shed to deal with danger every day and so on. At the bottom there is a message saying thank you to the police department. The balance of the invoice is zero.
"Each donation was added to the crown total and that's kind of how we did it for them," said Jeanperrin-Schulte.
The florist has been based in Kearney for almost nine years and has always supported local law enforcement.
"We see these guys here all the time," Jeanperrin-Schulte said. "They are big customers for us. It's always nice to see their reaction to something, just a little silly and light like that.
Kearney Police Sgt. Derek Luke who was the first to open the bill. He said it made him smile, and he immediately showed it to the police chief.
"We feel very fortunate to work and live in Kearney, Nebraska," said Sgt. Luc said. "It's so good to live in a city where you are supported by local businesses. This is what sets a place like this apart from others.
It was the perfect gift for Police Week.
"Without them we wouldn't have the incredible community we have today," said Jeanperrin-Schulte. "They protect us and interact so well with us. That's why it's really important to honor them and what they do for us.