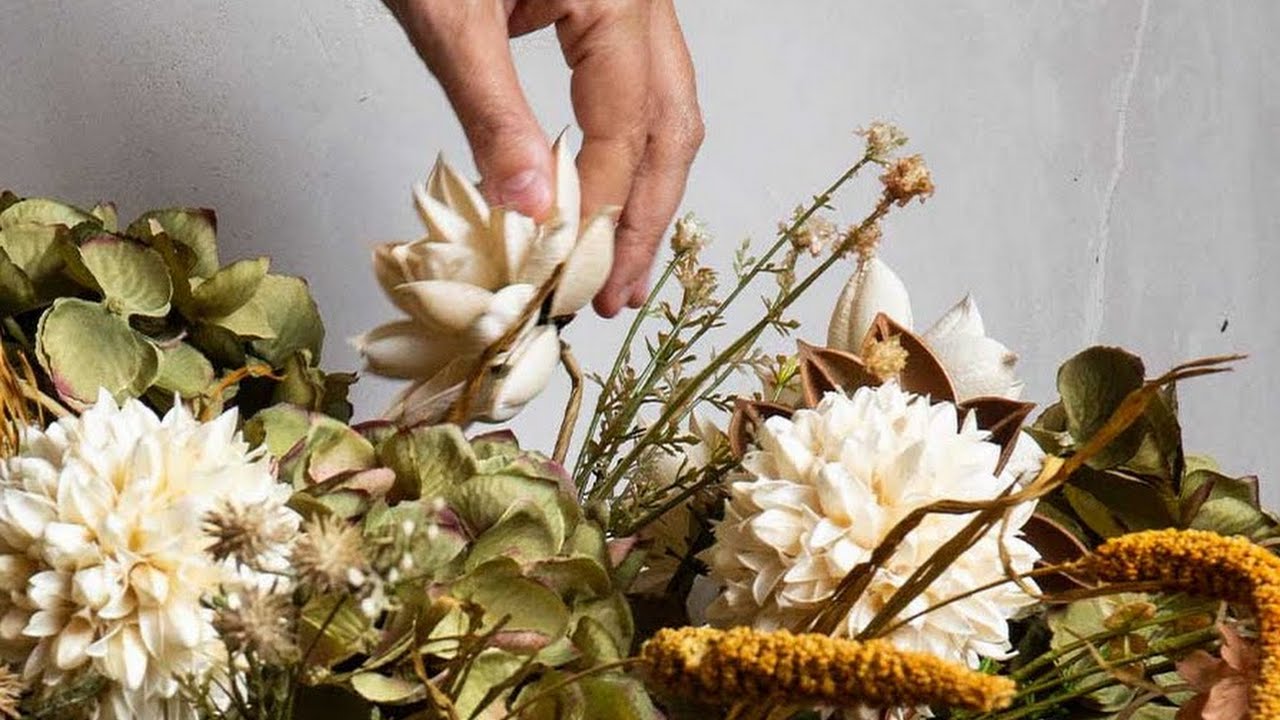 How to create an eco-friendly winter flower arrangement
As we move into the darker winter months, it can become difficult to find colorful flowers for your home. While not impossible, and if you head to your garden you might be surprised at what you find – a few dahlias are still in bloom and can be puffed up with verbena or crab apples.
However, if you just don't have a green thumb but still want to bring some nature into your home, there are plenty of ways to do it.
Keep it local
This time of year is for mixing dried flowers with fresh stems for a creation full of texture. If you are going to buy stems, ask your florist what Ireland-grown stems they have. Not only will these last longer because they've traveled a much shorter distance, but they're more environmentally friendly and will fit in much better seasonally with one of your own additions.
Stems and foliage
Also, don't forget that at this time of year there is a lot of foliage with a lot of colors. After summer, you will find leaves of a bright pinkish red, to burnt oranges and lemon yellows. You can create amazing displays without a single fresh flower in sight, like this amazing bouquet in The garden in the Powerscourt townhouse. There are also lots of beautiful stems, from the red stems of Cornus alba sibirica to peeling birch bark. Also keep an eye out for interesting seed heads, like common willow. If you have any allium heads or artichoke heads left over, they can be dried and create beautiful architectural shapes in a vase.
Flowers
While fresh seasonal flowers are scarce during the winter, there are some that bloom during this time of year. In addition to a few late-blooming flowers like dahlias and hydrangeas that still bloom until November, you can also get early-blooming daffodils and winter irises from mid-December. In terms of houseplants, amaryllis is a winter-flowering flower that comes in a range of hues from white green to festive reds.
Dried flowers are becoming more and more popular thanks to the Danish preference for you. You can buy dried flowers at The garden (40 € bouquet), Rockett st george, Søstrene Grene, and Industry & Cie. It's actually pretty easy to dry some yourself, just tie them upside down on a hanger in a cabinet for a few weeks and you're good to go. Make sure they don't touch each other and that there is plenty of air around them, otherwise they can rot.
photo by Aaron Burden to Unsplash
Foraging
If you want to forage some of your stems, there are a few important things to remember. Do not feed on public property and if you are looking for food in a field of any type of private land, be sure to ask the owner's permission first. And finally, when foraging, it should never seem like you have taken anything, only take small amounts that are well hidden from view and be careful to interrupt any potential wildlife in the area. region.
Say no to flower moss
This winter, especially during the holidays, we may tend to use oasis or flower moss for door wreaths and centerpieces. However, they are packed with harmful toxins and are completely non-biodegradable. They are so bad for the environment that prolonged exposure can cause cancer – it really can't be overstated that this product is terrible for the environment. Yes, it will help the flowers last longer, but they will survive just as long in regularly renewed fresh water. For hanging creations like door wreaths, water soaked foam kept in shape with chicken wire will work just as well and keep your rods secure, don't forget to add cool water. regularly.
The selected image: Rockett st george