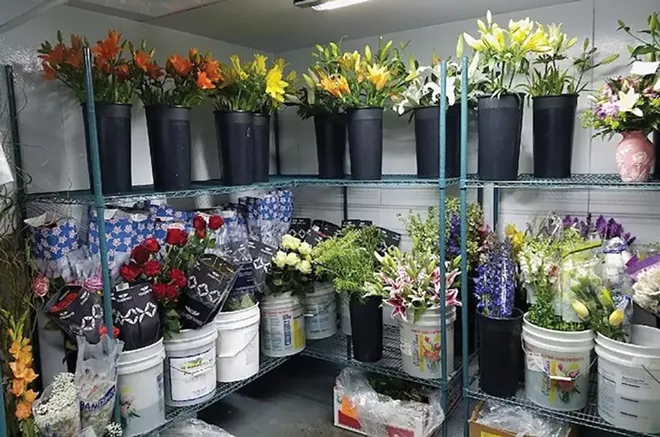 FLOWER SHOP 2021 | Fifth Street Florist
Fifth Street Flower Shop has been around for quite some time – since 1931, to be exact, when Truman Cole bought Cole Flower Shop from his father and renamed it Fifth Street Flower Shop. Although its location has moved several times over the decades, it returned to Fifth Street and its current location at 739 S. Fifth in 1991.
Eight years ago Sara and Doug Camp bought the flower shop from longtime owners Patrick and Robyn O'Connor. Manager Nicki Shaub has always been with the new owners.
Shaub says the COVID-19 pandemic closed their store for about six months because the flower industry has been hit very hard. Whole fields of flowers were thrown away, as large weddings were postponed or turned into informal affairs. The industry continues to struggle to find the balance. Fifth Street Flower Shop has temporarily stopped providing flowers for weddings due to shortages and has focused on other special occasions.
Shaub says the store's three full-time employees aim to stay positive throughout the disruption caused by the pandemic. "If it weren't for our clients getting together, it would be an uphill struggle for us," Shaub says.
Not only are there a lot of emotions about the disruption in the flower industry due to the pandemic, but Shaub notes that they are linked to the emotions of their clients. "What we're trying to do is help the other person who is having a hard time or is having a great experience. We go through every emotion they feel." Sometimes that means providing a literal shoulder to cry on. "We are everyone's family," Shaub notes.
Shaub says it's an amazing experience to be recognized over and over again as the best in Springfield. "We feel the love and really appreciate it. It helps us get through our daily life at the store." She notes that their high quality standards for the fresh flowers and plants they sell, along with their exceptional and personalized customer service, are the keys to their success.