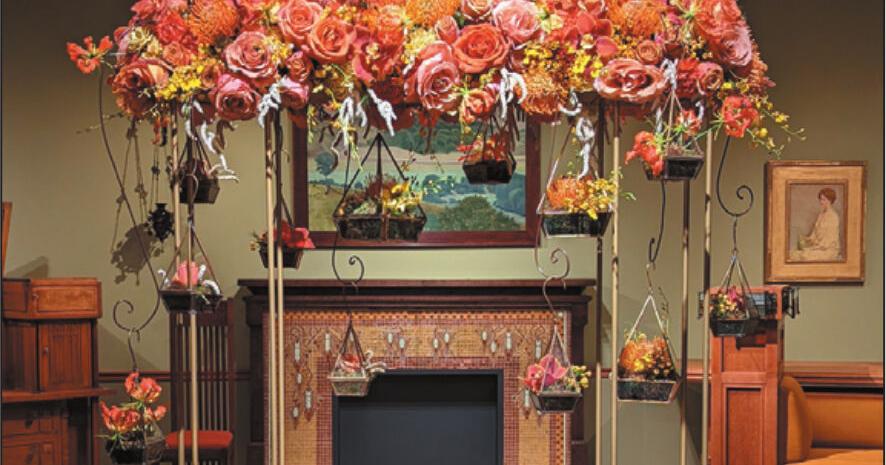 Florist Impress at Art in Bloom | Waukesha County Business News
HARTLAND — Art in Bloom, the Milwaukee Art Museum's (MAM) annual spring exhibit, is back this year after a two-year hiatus due to COVID. Art in Bloom took place April 7-10 and the sold-out show did not disappoint.
Out of 27 competing florists, Joe Divine of Hartland's The Flower Garden won several awards. In addition to winning second place in the official general classification. Divine also won first place in the People's Choice Award for the four-day show.
"It was really empowering," Divine said. "Not only do I know what I'm doing, but people love what I do."
This year was Divine's eighth year participating in Art in Bloom. He earned honorable mentions in his first and fourth years working with Flowers By Walter. This year, Divine's art he needed to recreate with his flower arrangement was Fireplace Surround from the Henry Harnischfeger residence of George Mann Niedecken.
---
Stay up to date on all the latest Waukesha County news with a print subscription to The Freeman: https://bit.ly/freeman_sub
---
When MAM selects the pieces that will be available for the florist participating in Art in Bloom, there is a strict criterion. All pieces must come from the MAM's collection, not from their borrowed or traveling expeditions. MAM organizes a lottery for the selection of parts. The lottery makes selection fair, but it also makes it difficult.
"Before, you would walk in and take a number from a hat. Then you were watching a slideshow and (the board with your number) was your work," Divine explained. "Now they email us all the pieces that will be in the show. We put our names in a hat. We go up and take down our selected pieces one by one.
Incorporates all art forms
Art in Bloom integrates all forms of art into MAM's collection. This is not limited to paintings. This means that florists can end up with sculptures, objects or even furniture installments.
The Henry Harnischfeger Residence Fireplace Surround is an iconic favorite from the MAM collection. Divine's name was drawn this year. The Fireplace Surround was one of the remaining pieces he loved.
"I find it more difficult than a painting. Some kind of paint tells you exactly where you're going to run with it," Divine explained. "While it's almost like a piece of furniture, like trying to take inspiration from a chair. It's not that easy. But it was the color palette that attracted me.
The idea of ​​creating an eye-catching fireplace-inspired floral arrangement may seem like an impossible task to some. Divine, however, went through about 15 different designs in her head before settling on her winning piece.
"I knew I wanted to do something that was lifted and crossed. I knew it well. But what the dangling tracks and the other tracks would be, I had no idea," Divine said.
The arrangement finally came with elegant hanging glass planters that hang down from the flat part on top. With the two stands on either side of the room, there is no doubting the Divine art installation that modeled its arrangement after. Seeing it as he created it produced a different feeling than when it was finally installed at MAM.
"I actually hated it until I installed it. Once everything was installed and finished, I was like, 'OK, that's pretty cool.' But while I was doing it, I was like, 'I don't like anything about it,'" Divine said.
Florists have no say in the orientation of their arrangements. The florists receive the dimensions of the podium. They also receive measurements of how high or how much material can hang. Divine was lucky with the angle of her podium. His arrangement was right at the entrance to the room, directly in front of the fireplace.
Divine enjoys participating in Art in Bloom.
"It's a challenge. It's a fun time. Most stores give you a budget to do whatever you want. I can buy things that I don't always play with. I get to work on a scale that I don't usually work on," Divine said.
"It's the museum. Go big or go home.