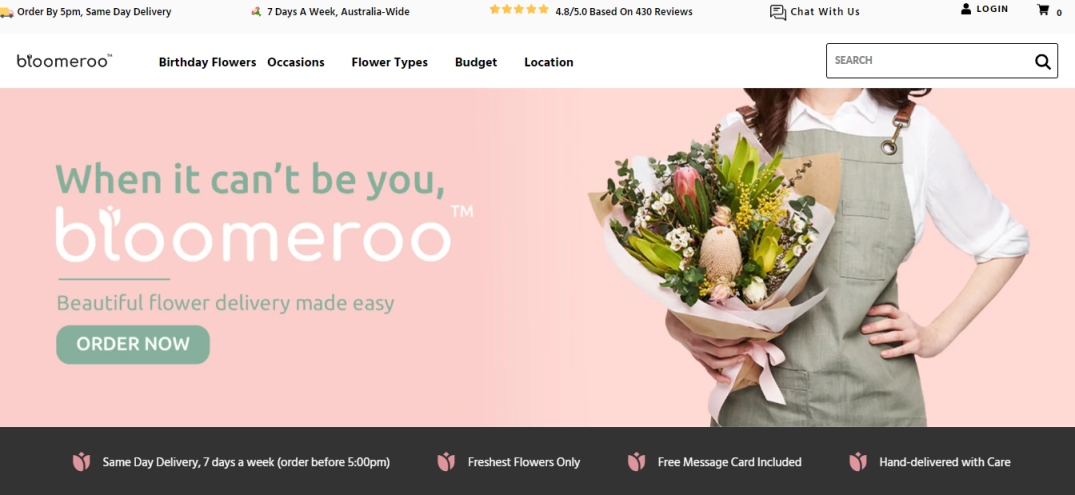 Bloomeroo Australia: Reviews – Florist with delivery
Bloomeroo is the boutique flower delivery service you've been looking for! They provide the people of Australia with impeccable service and an incredibly diverse variety of bespoke floral arrangements to suit any occasion you can think of. Their budget options are just as subtly beautiful as their luxury bouquets – the reason is in the meticulous selection process that Bloomeroo specialists apply to the flowers that end up in their signature bouquets.
Bloomeroo offers same day delivery to major parts of the country, so it's the perfect solution for anyone having that last minute panic attack for a birthday or forgotten birthday and needing a quick and thoughtful surprise. to get to someone's door. What makes Bloomeroo so unique is not the flowers themselves, but in the passion and obvious craftsmanship that goes into the arrangements, you can see from their selection that there is genuine love and unwavering for what they do – and for that alone, Bloomeroo is an elegant solution.
CONTACT:
Telephone: (03) 9917 5372
Website: www.bloomeroo.com.au
GOOGLE REVIEW:
"I have ordered twice from Bloomeroo and have been very happy with their flower bouquets and delivery time!
Thank you for making these wonderful moments possible!" – Sylvia
"More than happy with the whole package. The flowers looked fresh and vibrant. The bear is just super cute and the chocolate is of course always a win. The delivery was exactly when it was supposed to be with the windows and my wife was over the moon (and had already shared some of the chocolates around the office) The price may have been high but with these results I'll be happy to pay again in the future Thanks again !
Edit after answer: you are more than welcome! Note that the flowers lasted a very long time with just water added to the vase, I was really impressed. The bear is always super cute and sweet. The chocolates didn't last long, but that was our fault Haha!" – Mishkaa
"This is the best flower delivery service in Australia that I have used! The flowers arrived fresh on time, my cousin was so happy" – Khaleeda