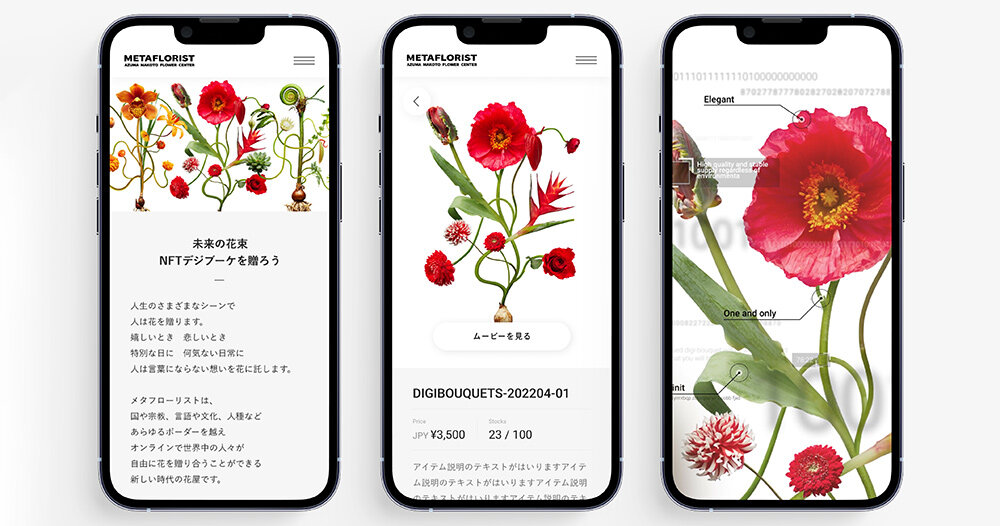 Azuma Makoto Opens 'META FLORIST' NFT Digital Bouquet Shop
personal botanical creations by azuma makoto
Florist Azuma Makoto opens a virtual store called META FLORIST, specializing in the creation and sale of NFT digital flowers. The project is led by 'Azuma Makoto Flower Center (AMFC)', the visual production division of the experimentation botanical collective 'Azuma Makoto, Kaju Kenkyusho (AMKK).'
META FLORIST is an online giveaway service that issues and sells a limited number of NFTs, or "digital bouquets." These virtual floral arrangements can be sent to loved ones with a message, or can be enjoyed as a collection for yourself. Even those unfamiliar with NFTs – or those who don't own cryptocurrency – are welcome to access the digital bouquet as a standard online purchase through a dedicated META FLORIST wallet app.
images courtesy of Azuma Makoto Flower Center (AMFC)
find yours at the meta florist shop
Three digital bouquets with a limited edition of 100 each were released simultaneously alongside the launch of Azuma Makoto's META FLORIST store on September 30, 2022. Going forward, new releases will be announced in order on Tuesday, October 18 and Monday, October 24. The team writes: 'These future bouquets will be the first NFT "digital bouquets" created by Azuma Makoto, a global player florist.' The three bouquets available at META FLORIST store can be purchased for US$25.